Loading the trailer, that is.
Yesterday I brought my 1991 Logan Competitor Plus four-horse trailer to the house to start the work of getting it ready for the big haul to Eagar, Arizona, then on to the US/Mexico border at Douglas, AZ. I have already had the brakes checked and adjusted and the bearings re-packed, and repaired the electrical system as far as the tail and running lamps go. There is little left to do except the packing and loading.
A week ago, I hauled four horses down to Holden, Utah, about an hour's haul, for a 1/2-day's ride. On the way back we had a blowout on the right-rear trailer tire. It was good that happened, because I discovered that I hadn't yet put a lug wrench in the trailer! Nor could I find my hydraulic jack, which I thought I had put in there somewhere. I was, however, able to test out the new Trailer-Aid chock/jack I recently purchased through Outfitter's Supply.
The Trailer-Aid is simply placed in front of the tire adjacent to the flat and the trailer is pulled forward until the tire rests on top of it. This is supposed to provide sufficient lift to get the other tire off the ground for changing. The above photo shows my right front trailer tire on top of the Trailer-Aid with four large horses in the trailer! I learned, however, that with the trailer loaded, there isn't sufficient lift to get the flat completely off the ground. We weren't very keen on unloading the horses on the side of a freeway with a speed limit of 80mph. We were lucky enough to be able to contact a relative of one of my passengers, who came to our rescue with a lug wrench and a hydraulic jack. Luckily, my spare tire is a good one and we were back on the road in just a few minutes.
After getting the trailer home, I unloaded the horses and tried the Trailer-Aid again. Happily, it will, in fact, lift the adjacent tire completely off the ground, allowing a tire change, with the trailer empty of horses. Just for information, my Logan trailer has independent tortion bar suspension, rather than leaf springs. I don't know whether that would make a difference. At $48.95, I believe this is a good, heavy-duty piece of gear that will become standard equipment for all my trailers in the future.
The learning experience from this blowout has prompted me to find my heavy-duty 2-ton hydraulic bottle jack (which was in the trailer the whole time, hidden away in a cubby hole) and strap its handle to it with a plastic wire-tie, purchase a good T-bar lug wrench and some spare lug nuts from the local Napa store, and place them all in a storage bin where they are easy to find and won't get buried by other gear. As for the blowout, of course I bought a new Goodyear Marathon 8-ply trailer tire to replace it. All my tires are now up to full pressure at 65psi (cold). The left-rear tire appears to be losing pressure slowly, so I will go down tomorrow to get it repaired or replaced.
Last Thursday I removed the left-side window in the gooseneck area to have the slider replaced. It was broken before I owned it. I took the window to Carter's Glass in Spanish Fork, UT. I was disappointed to learn that they can no longer get tempered glass for repairs in campers and trailers, so the replacement slider will be plexiglass. When I get back from my pack trip I plan to start the cosmetic repairs to the trailer, so I'll check with Hehr, the manufacturer of the window, to see if they have glass replacement sliders available.
Removing the window was a simple matter of drilling out the 12 aluminum rivets with a 1/8″ drill and cutting the caulking around the edge of the window. It came right out with little resistance. No big deal. It will go back in the same way, using aluminum 1/8″ X 5/8″ rivets and my trusty rivet gun.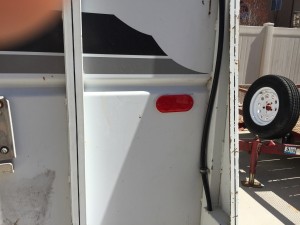 I had previously repaired all the trailer lighting…at least all that are required to be legal on the road. Some of the wiring needed minor repair and a couple bulbs replaced. I also purchased orange and red reflectors for the sides of the trailer, which is also required by Utah law. The originals had long ago fallen off. I scraped the old remnants of the previous reflectors off with a wood chisel (a window scraper might have been better), then cleaned it well with mineral spirits. The new reflectors came with a peel-and-stick adhesive already applied, so I simply peeled and stuck them to the sides of the trailer. These reflectors can also be attached with rivets or screws, if desired.
My trailer came equipped with interior lighting, as well as exterior lighting, however they are not working and are in need of extensive repair to the wiring. I'll let that go until after my big pack trip, since I will not be hauling at night on this trip.
When I bought my trailer, it came with a triangular shaped water tank that has been used, but was not installed. It bears the Circle J Trailers brand, so it was not made for this trailer. It is of the type normally installed in the rear tack compartment, however, the way my saddle rack is made will not allow this. I removed a metal shelf unit that was installed in the acute-angle corner of the dressing room in my trailer, which is the same angle as that in the rear tack compartment. The tank will fit in this corner, but will require me to build a stand, to get the spigot up off the floor, as well as make some metal bands to secure the tank in place. Apparently the angle of the Circle J trailers is a little more acute than those in the Logan trailer, because I'm going to need to apply shims on one side to keep the tank snugly in place. Still, it will give me around 36 or so gallons of water for the horses while I'm hauling.
So, on with "getting loaded."  Yesterday afternoon I pulled everything out of the trailer that was not stuck down in some way, and swept and cleaned a little. It could use a thorough cleaning, but that will have to wait until I'm done with my trip.
I then separated all my horse tack and gear into two areas: That which will go on the trip and that which will not. I have acquired, over the years, a bunch of old horse tack, much of which I will never use again or is beyond its useful years. These items, including old saddle pads and blankets, old halters, and other odds and ends, I packed into a duffle bag which will stay here at home until I decide how to get rid of it.
As for the stuff in the "go with" piles, I pulled out my gear lists for the pack trip and started my inventory. As I located each item on the list, I stowed it in the trailer then checked it off the list. As I did so, I was amazed at how much tack and gear this trailer will hold without seeming jam-packed. Everything has a place and when packed it all fits very well. This trailer is just what I need for trips like this.
The rear tack has a four-tier saddle rack. It now carries two Phillips Formfitter pack saddles in full rig and two western riding saddles. Inside the horse compartment are saddle pad racks for up to eight saddle pads. They now hold four pack saddle pads and two riding saddle pads, as well as two sets of saddle bags. On the door of the rear tack compartment, the previous owners installed a set of horse shoe hangers which now hold two hackamores, two bridles with snaffle bits, and two halters and lead ropes. On the walls inside the tack compartment are additional hooks that hold an assortment of cinchas, a couple rain slickers, and some miscellaneous items. In the floor is room for several shallow feed buckets and my trusty Trailer-Aid chock.
The side compartment is extra storage space created by the feed mangers in the horse compartment. While the manger makes loading horses somewhat tricky in a slant-load (you have to get between the horse and the manger to tie them in or go around and tie them through the windows), the extra storage space is more than worth the inconvenience. The storage space, which measures about 40 inches high X 18 inches deep X 14 feet long, has two access doors on the driver's side of the trailer. Along the inside wall, near the top, are hooks which are perfect for hanging halters, lead ropes, pack ropes, hobbles, and miscellaneous gear. This is where I store my bagged feed, feed buckets, pack paniers, manties, farrier kit, hydraulic jack and tire tools, and anything else that doesn't have a specific designated place elsewhere. Both access doors have a large, deep, box shelf for holding things such as brushes, fly spray, and other small items.
The "dressing room" portion of the trailer is not sufficient to call a "living quarters", however it is large enough that I plan to convert it to a rudimentary camper in the future. Some previous owner started the conversion, having installed insulation and wood paneling in the front portion of the room. I will probably remove all the paneling, so I can reconfigure the electrical system and install some plumbing, before re-covering the walls with paneling. My plan is to install a sink with a manual pump, a two-burner propane stove top, a fold-down table, and a port-o-potty. I'll likely make an outdoor "cowboy shower," as well.
This area currently holds a couple built-in box seats, which are also storage containers, a small closet, and a couple small cabinets in the nose of the gooseneck area. I have a large black plastic box that will hold all my personal items and small gear, such as the solar panels, camera, binoculars, cooking gear, etc., for the trip to the trailhead. My hand tools, for mechanical emergencies, are also stowed here in a toolbox. There are a couple coat hangers on the back wall, one of which now sports the new Mud River rain slicker I purchased from Outfitter's Supply. All this stuff, except the hand tools, will go on the pack horses and in my saddle bags for the trip.
The photos you see in this post are with all the horse tack and pack gear I purchased for this two-and-a-half month pack trip stowed in the trailer. We still lack my personal things, our food supply, Dad's personal things, and the tack and gear for his three horses, but this trailer has plenty of room for us and all our gear. We will, however, have much of his gear stowed in a second trailer, since we will need it for two more horses (we will have two saddle horses and four pack horses for the trip).
For my average pack trip (which is a much smaller enterprise than this current undertaking), in which I will normally have one or two saddle horses and one or two pack horses, this trailer is perfect…or will be once I get the camper portion built.
I'm quite pleased with this Logan trailer.